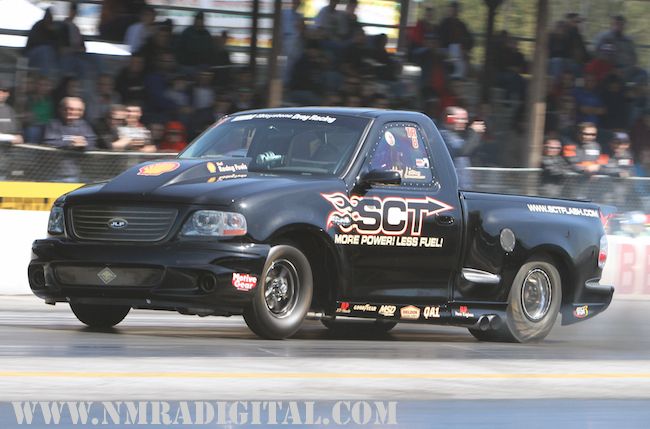 We will have an open comp style Truck Class based on the NMRA truck and lightning class open to all domestic brands...16+ needed for class...questions to Gene Bergstrom at
gbergstrom@promediapub.com
or tech line Phone is (714) 460-3813 between the hours of 4:00 pm - 8:00 pm Eastern Time each Tuesday, Wednesday, and Thursday.
Muscle Cars and hot rods from all over the U.S. will be invading Texas once again for the 4th Annual Nitto Tire NMRA/NMCA Lone Star Shootout at Royal Purple Raceway in Baytown, TX, the weekend of November 9-11, 2012. This "must see" event will feature everything from wild 6-second 200+ mph Pro Mods to Hot Rod magazine Unlimited Street cars and everything in between. There are lots of classes for competitors of all levels including TREMEC True Street, presented by Muscle Mustangs, Mod Comp, Super Truck & SUV, Bracket Racing, and much more. You will see some of the coolest Texas hot rods and muscle cars around as you cruise through the UPR Products / DuPont Custom Finishes NMRA/NMCA Car Show, and then take a trip down the Lone Star Shootout's huge manufacturers midway for great deals on the parts you need! Finally watch as Scotty Holdridge runs his 300+ mph jet car down the 1320 trying to beat the Texas land speed record! The best part is that Lone Star Shootout racers will have their combinations set ON KILL because all class winners will take home a famed NHRA Unleashed Wally courtesy of Aerospace Components.
RACE, SHOW OR CHECK IT OUT…THIS EVENT HAS IT ALL!
■6-Second 200+ MPH Pro Mods
■Unlimited Street Cars as Seen in Hot Rod Magazine
■Wheels Up N/A 10.5 World Finals Showdown
■Special Giant Mod Comp Class
■Super Truck & SUV Racing for Fast Haulers
■Tremed True Street Racing Open to All Domestics
■Bracket 1 & 2 Racing Saturday & Sunday
■Index Rumble Class for Mild to Wild Cars
■Huge UPR Products / DuPont Car Show
■Giant Manufacturers Midway
■300+ MPH Flame Throwing Jet Car
NMCA
or 714-444-2426